First newsletter of the year
Monday, 16 January 2023 21:47
First newsletter of the year from your Police, Fire and Crime Commissioner
Please find attached the January 2023 edition of Northamptonshire Police, Fire and Crime Commissioner's newsletter.
This issue includes -
National praise for Safer Streets scheme; training for health and social care professionals to help them recognise and tackle doorstep crime being extended for two more years; and how new technology will be fitted to every vehicle in the Northamptonshire Fire and Rescue Service fleet to help improve its current efficiency, save money and inform how it can become greener in the future.
The newsletter also features a round-up of some of our highlights from 2022.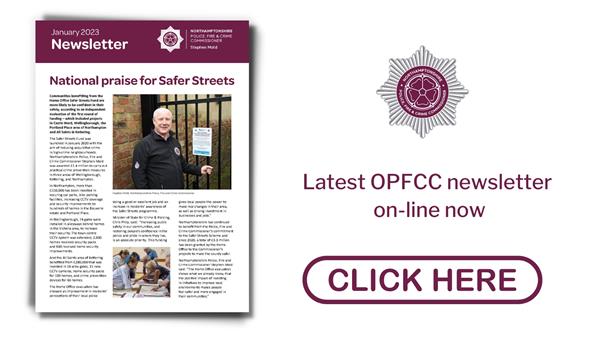 The newsletter can also be viewed or downloaded from our website -
www.northantspfcc.org.uk/newsletter-january-2023/
It is also the final few hours to have your say regarding the part of council tax you pay towards police and fire services here in the county. The survey takes around 5 minutes to complete and closes at 4.30pm on Tuesday 17th January 2023.
www.research.net/r/OPFCC2023counciltaxconsultation
You can follow the latest updates from the Office of the Northamptonshire Police, Fire and Crime Commissioner on Facebook, Twitter, Instagram, YouTube and LinkedIn - just search for NorthantsOPFCC
Attachments
OPFCC newsletter January 2023.pdf
Message Sent By
Helen Franks
(Northants Office of Police Fire and Crime Commissioner, Social Media Engagement Officer, Northamptonshire)